December 2020 edition
available now!
Our December issue is out now across East Gwillimbury and available at select pick-up sites (click our 'Find A Copy' link above for specifics).
2020 is our 22nd year in East Gwillimbury!
Our goal is and always has been to give you a unique look at our community - the people (past & present), history, events, and stories that shape East Gwillimbury. We look forward to bringing you the same in 2020, plus a whole lot more!
- Blair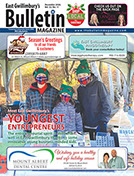 Click above to read the digital version
• February issue mailed February 4 to EG residents.
(Please note: we do not publish in January.)
• Ad bookings & Editorial copy due January 25 for February issue.
Solution for the Bulletin's Sudoku, December 2020 edition (click to enlarge).
DID YOU KNOW: 12,000 copies of the Bulletin are mailed to EG residents FREE of charge via Canada Post Neighbourhood Mail.
Some of our favourite stories from previous Bulletin editions:
From February 2020 Issue:
Forever A Storyteller
I first met local historian Allan McGillivray on a walking tour of Mount Albert that he led, hosted by the Mount Albert Village Association in 2014.
There he stood looking every bit the 'historic storyteller' that he is – white long-sleeve shirt, bow tie, and a snazzy black bowler hat.
From March 2020 Issue:
Everything Old is New Again
Four years ago, local entrepreneur Rob Davison opened up a shop called 33 1/3 Record Store to cater to those who are re-embracing vinyl. Rob has fond teenage memories going with his buddies to Sam the Record Man in downtown Toronto to buy vinyl.
From July/August 2017 Issue:
UnBEElievable!
Hundreds of bees are hovering around obviously much less concerned by me than I am of them. When Rimsky-Korsakov wrote 'Flight of the Bumblebee', this is probably what he had in mind.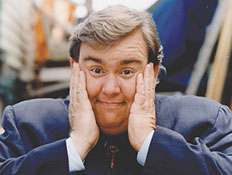 From March 2017 Issue:
The Life & Times of East Gwillimbury Legend John Candy
If there was ever a man whose personality was larger than life, actor John Candy was it. In the 1980s, the Candy family put down roots in Queensville. In March 2017, we chatted with John's daughter Jennifer for this story.