By Blair Matthews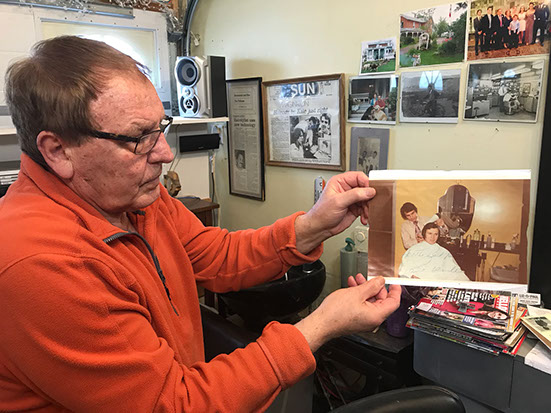 There are many people in East Gwillimbury who have done fascinating things. Our Town might seem like a sleepy little community where nothing really happens – most of us like it that way. But when you start to peel back the layers of this small-town onion, interesting people and stories are revealed.
Meet Paul Kiriaku of Mount Albert.
Stepping into Paul Kiriaku's garage-turned-barber shop is a little like visiting a bygone era. Pictures of famous people and newspaper articles adorn the walls of this 78-year-old's work space. Every hair stylist's most valuable tools are within a hand's reach.
As a barber, he's trimmed a lot of sideburns, shaved a lot of faces, pampered a lot of clients, and cut more hair than you can imagine over the past 60 years.
That wasn't a typo. Sixty years as a barber. That's a lot of hair.
His roots started in a small village in Macedonia, Greece called Banitsa. "I was the first ever business man to open a shop at 16 years of age in my village."
Kiriaku's grandfather had spent 10 years in the United States during the Great Depression and had seen much hardship around him.
His advice to his grandson: learn a trade, whether it be as a shoemaker, barber, or something else. While Kiriaku's father suggested he become a sheppard, he set his sights higher. And it paid off.
"My grandfather was 5' 5" - he was walking 10 feet tall. He was so proud of me... my grandson the businessman."
Kiriaku met his wife in Macedonia some years later. She emmigrated to Canada, and Kiriaku eventually followed.
In the beginning, he worked briefly as a dishwasher and bus boy, but he soon found work at a barber shop. He was hired for a 6 week term but stayed 3 months.
In 1961, he started working Saturdays at Michael's Barbershop at the corner of Gerrard and Parliament in Toronto.
He was making ends meet and was preparing for fatherhood, but a chance encounter on an unforgettable day changed his life forever.
Kiriaku's wife, Liz, was in labour with their daughter. After he drove her to the hospital in downtown Toronto, he detoured over to the Westbury Hotel for an impromptu job interview. He'd heard they were looking to hire a barber but this was the first spare moment he had to apply. When he told the manager he wanted the job, the first question he got was, "How come you aren't shaved?"
Unprepared for a job interview and his wife about to give birth, Kiriaku explained the situation to the manager.
He was hired on the spot.
The Westbury Hotel opened in 1957 on the corner of Yonge and Wood Streets in downtown Toronto, one block north of Carlton Street – a stone's throw from the famous Maple Leaf Gardens.
At the time, the Westbury was considered a luxury hotel of epic proportions. The lobby, furnished by the Robert Simpson Company, was heavy with marble and walnut panelling. The Sky Lounge on the 16th floor possessed an amazing view of the city's financial district and Lake Ontario. The Polo Room cocktail lounge quickly became a favourite on the Yonge Street strip for those who enjoyed a late-night drink.
For the next 10 years, Kiriaku cut, styled, and primped hair for famous politicians, businessmen, and professional athletes.
Though he wasn't a die-hard hockey fan when he first came to Canada, he soon became schooled in the game. And when Maple Leaf players came for haircuts, they often left him game tickets. Over the years, Kiriaku figures he provided barber services to about half of the roster.
"This is Bobby Baun," Kiriaku says as he points to a photo on the wall. "He scored the goal during the Stanley Cup game with a broken toe. He used to come in every week."
Any long-time Leaf fan will tell you that Baun was instrumental in the Toronto Maple Leafs' 1964 Stanley Cup win. His overtime goal in Game 6 of the series forced a Game 7 where the Leafs went on to beat the Detroit Red Wings and claim the Cup.
Eight years later, hockey history was about to be made again - this time with global reprecussions.
In September 1972, Canada and Russia were embroiled in an historic month-long 8-game hockey series dubbed "The Summit Series".
Team Canada was expected to dominate the tournament, but lost Game One 7-3. Fans were stunned.
It was a gruelling series for players, fans, and two very proud countries in their quest for hockey supremacy. With the series even at 3 games apiece (and 1 game tied), it became obvious, according to hockey historians, that this Summit Series had brought Canadians together in a way that had not been expected. As Game 8 in the Soviet Union began, businesses closed, schools wheeled televisions into classrooms, and an estimated 18 million of Canada's 22 million residents were in front of a TV set.
In the final 60 seconds of the game with the score tied, Toronto Maple Leaf Paul Henderson scored the goal that was heard around the world. He would later call it the biggest goal he ever scored in his life.
Team Canada cemented its hockey legacy in grand fashion.
Two days after that momentous goal was scored, newly minted Canadian hero Paul Henderson sat down in Kiriaku's barber chair at the Westbury. It wasn't the first time they had met, not by a long shot. For a few years prior, Kiriaku routinely saw Henderson in the shop. "I used to straighten his hair before every (Toronto home) game."
But this time... just days after Henderson had become a Canadian hockey icon, seeing him again was magical.
"Paul Henderson is like a God in Maple Leaf Gardens," Kiriaku recalls telling people in the hotel management office as he scurried around looking for someone with a camera to take a photo of them together.
Kiriaku remembers that day vividly. There wasn't a long drawn out blow-by-blow commentary about the game. Henderson was very shy, Kiriaku says. Reporters would be looking for him and he'd purposely use a back entrance.
"When we saw each other, we hugged, of course, because he was like a brother to me" Kiriaku says. "He told me some personal things that I can't even tell you now. To this day, he is still my hero."
Kiriaku opened up shops in Scarborough and Unionville later in 1972, and their paths crossed again a few years later.
By that time, Henderson had found religion and was a born-again Christian. He came to preach in Unionville and invited Kiriaku to the event.
"He asked me to sit at the head table and he introduced me as his barber," Kiriaku says proudly.
In the mid 1980s, Kiriaku was at a crossroads. While he and his wife were away on vacation, two of his salon employees had taken half of his business away. He searched for something that could help him attract new clients and keep his shops afloat.
One night, his grandfather came to him in a dream and gave him the answer. "He never saw a computer in his life... never. In my dream, he said 'computer imaging'."
And that was enough to sell Kiriaku on a new hair salon concept of computer hairstyling analysis. Clients could see a potential cut/style on their own head before a single pair of scissors touched hair. Keep in mind, he says, that computers had not yet become a mainstream necessity. The Internet and cell phones were still at least a decade away. The Quebec-based software was new and hadn't been introduced yet.
Kiriaku needed $8,000 to buy and implement a computer system and that golden piece of software into his shops – money that he didn't have. So he met with the bank manager in Unionville and asked for a loan.
He was turned down... until he was on his way out of the bank. The manager's secretary was a client at Kiriaku's salon. "Paul's an honest man," she declared. "Give him the money."
He got the loan.
"In 24 hours I was the most popular hairdresser in Canada," he says.
The computers were named KATE (for men's hairstyles) and KARL (for women's hairstyles); KATE could suggest one of 600 best-suited styles to male customers. KARL had 1200 available styles to offer to female clients. For $30, customers answered 25 questions posed by the computer (things like shape of face, body shape, chin and forehead size, age, height, eye colour, etc.).
After the 30 minute consultation, a detailed printout would be provided complete with beard and moustache suggestions, colouring options, and sketches of up to seven recommended hairstyles. All the information was stored on the salon's Commodore computer system, easily accessible for a client's return appointment.
This revolutionary computer analysis catapolted Kiriaku's business to the point where he had six salons in the GTA. Media coverage helped spread the word and by the late 1990s, business was booming.
Eventually, he decided to sell most of his salon business so he could devote more of his time to his family and his wife, who was, at the time, battling cancer.
Five years ago, the Kiriaku family moved to Mount Albert. They kept the salon in Unionville (his daughter is the manager) and the makeshift barber shop in their garage is still a popular place to shoot the breeze. Though the Commodore computer system has long been retired, and the hairstyles have changed, the service and dedication to his clients has not. Work ethic, he says, that was instilled in him by his grandfather so many years ago.
And if you're lucky enough to sit in Kiriaku's barber chair and ask the right questions, he will tell you some amazing stories about his journey and the people he met along the way.