By Blair Matthews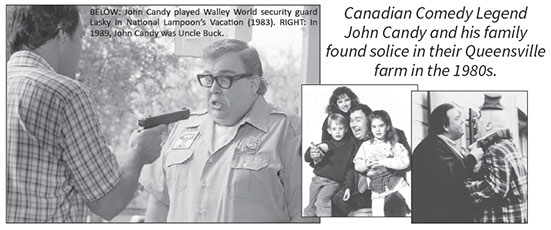 If there was ever a man whose personality was larger than life, actor John Candy was it. And while you probably know him from comedy classics like The Great Outdoors, Uncle Buck, Planes, Trains and Automobiles, Spaceballs, and Cool Runnings. Jennifer Candy knows him simply as... dad.
And she couldn't be more proud to carry on the Candy family's legendary knack for entertaining people.
John Candy was born in Newmarket in 1950 and spent much of his early career in the Toronto and Chicago areas as part of the comedy-variety show Second City Television (SCTV) in the late 1970s. It was a launching point for a number of talented Canadian actors. NBC picked up the show in 1981 and the cast found fame in Hollywood. John dabbled in film, with roles in Steven Spielberg's 1941, The Blue Brothers, and Stripes, and hit it big alongside Tom Hanks in the 1984 romantic comedy Splash.
"Second City really did it for me," John once told a television reporter. "I was working in Toronto doing commercials and underground theatre. I really grew up when I went there in a lot of ways. It was Chicago – bars were open until 5 in the morning, it was good times, I was meeting all sorts of interesting people. I was learning my craft, which I never understood at that point. I'm just understanding now what I was learning then."
With the fame that was coming, the Candy family sought to put down roots close to Toronto but away from the hustle and bustle of big city life. They chose a small town called Queensville.
Jennifer was just a year old at the time, but has heard the story told often over the years of how her parents found their East Gwillimbury property. "My dad was reading the local paper and found this farm for sale. He yelled to my mom from the other room, 'I found our house!' At the time we were living on Avenue Road in Toronto. He bought the house on Doane Road in the middle of winter and come summer they realized a creek was running through the basement. It was my parents' Money Pit, just like the (Tom Hanks) movie, but they turned that farm into a paradise," Jennifer says.
In an early 1980s 'That's Life' television interview, John gave a tour of the Queensville farm. Playing in the sandbox behind him was a young Jennifer Candy. During the interview, John admitted that, "Jennifer is the best thing that has ever happened to me." And when the interviewer asked if he realized how big a star he was becoming, a humble John answered, "no, not really. It's very weird. It's hard to relate to. I still have to change the kitty litter every night... every three days... a week – ok, once a week," he quipped.
The farm became a retreat for John and a handful of famous friends. It wasn't uncommon for the SCTV crew to visit – Martin Short, Catherine O'Hara, Eugene Levy, Andrea Martin, Joe Flaherty, Dave Thomas – all of them spent time at the Candy estate. "Robert DeNiro even came to de-stress at the farm one weekend when he was shooting a movie in Toronto," Jennifer says. "His agent knew my dad and knew that (the farm) was the best place to go to unwind from the City."
Even with the wave of fame that he was riding, his daughter says he always stayed grounded – and that resonated with his fans. "I think it had to do with my dad being so relatable. People always found something in him that they could connect with. He was so loveable and made people laugh. When he was out and about he loved talking with fans. But like everyone, sometimes (while out in public) you just want to get in and out. Our farm was his place to get away and relax. Our later home in Los Angeles was created to kind of look like a mini Queensville."
Her first memory of seeing her dad on screen was the 1985 'mockumentary' he did with Eugene Levy called The Last Polka – playing goofy polka musicians Yosh and Stan Shmenge from the fictional country of Leutonia. The duo even appeared in character on The Late Show with David Letterman and performed a polka number. A long-standing rumour is that both actors actually played their accordian and clarinet on stage. Jennifer says they were masters of making it look authentic. "They didn't actually play their instruments, though my dad did play the clarinet in high school and knew how, just not that well. They were just really good actors! (Their polka hit) 'Cabbage Rolls and Coffee' will always be a part of our family," she laughs.
John went on to memorable roles in Summer Rental, Volunteers, Armed and Dangerous, and Little Shop of Horrors.
In 1986 the Candy family moved to California, but came back to the Queensville farm during summer holidays for years.
Jennifer was 14-years-old when her dad died of a heart attack in 1994 while filming Wagons East in Mexico. He was just 43.
It was a loss that was felt around the world.
The news of John's death made front page headlines on magazine covers and newspapers from coast to coast.
Fortunately, he left behind many great comedic moments that will entertain people forever. For Jennifer, his on-screen characters have provided much comfort. "I always loved watching his stuff. It helped me stay connected to him even when he was gone," she says. It's hard for her to pick her favourite John Candy movie – it changes as the years pass. Right now it's JFK, a rare dramatic role he accepted in the 1991 American conspiracy-thriller film directed by Oliver Stone. "I love that movie," Jennifer says. "My dad loved working on that movie. It showcased another side of his talent which truly made him an amazing actor."
One of John's personal favourites was the 1989 comedy film Who's Harry Crumb? where he got the chance to stretch his comedy legs by playing a private detective with a knack for wearing many physical disguises. John also served as executive producer on the film and Jennifer landed herself a bit part in the movie.
Her scene ended up on the cutting room floor, even with her dad as the star. It was part of a long list of bit parts that never quite saw the light of day. "You can see my shoulder in Only The Lonely and I did get cut from Planes, Trains and Automobiles." She was part of a crowd shot in The Great Outdoors and was lucky enough to do voice-over work on Camp Candy and Radio Kandy. Perhaps her earliest on-camera moment came at the hands of another comedy legend. "As a baby my television debut was in a show called Big City Comedy. Betty White held me in the opener and I was also a part of the court scene."
As an adult, both Jennifer and her brother Christopher are following in their dad's footsteps.
Christopher is an actor and writer, known for Contracted, Bar America and Clark and Michael.
Jennifer is a producer and actress with credits in According to Jim, MADtv, One Day at a Time, Liv and Maddie, and In Vino. She also hosts Couch Candy, where she chats with some of her dad's famous friends.
With Canada's 150th Birthday this year, it should be noted that John Candy loved being Canadian.
If you look closely near the beginning of Planes, Trains and Automobiles, Del Griffith (Candy) is 'reading' what is presumably an erotica novel called The Canadian Mounted, a humorous nod to John's Canadian roots.
Football was one of John's passions, second only to his family. In high school he played left tackle on the offensive line until he was sidelined by a serious knee injury.
In August for two years in a row, the Candy farm in Queensville hosted the family's "Rose Bowl" (to celebrate John's wife Rose's birthday). "We would gather family and friends and form two teams. The second year got so elaborate my dad had team jerseys made. I remember us having a draft and I got to pick our team name: 'The Mighty Earthworms' (after the cartoon, Mighty Earthworm Jim). Everyone from my grandma, aunts, uncles, cousins, neighbour friends and my dad's friends would play. It was truly amazing," Jennifer says.
In 1991 LA Kings owner Bruce McNall, hockey great Wayne Gretzky, and John Candy bought Canadian Football League (CFL) team the Toronto Argonauts. It was a dream come true for John.
The Argos didn't lose a single home game that season and went on to win the Grey Cup in Winnipeg that year. At the time, only Bruce McNall's name (as the majority owner) was etched on the Grey Cup trophy. Sixteen years after the Argos won the championship, the CFL finally granted permission for both Gretzky and Candy to have their names added to the trophy.
To this day, the John Candy Memorial Award is given out every year to the Toronto Argonauts player of the year as voted by the Football Reporters of Canada. It was established after his passing in 1994.
Recently, John Candy received a Canadian Comedy Icon Award at the Alterna Savings 'Crackup Comedy Festival' in Ottawa in celebration of Canada turning 150. The award was accepted on stage by the Candy family.
Meanwhile, back here in Queensville, where the Candy family still owns that parcel of land and has some of their fondest memories, another tribute is coming. Aspen Ridge Homes is currently developing a large subdivision in the Leslie Street/Doane Road area. Among the new street names shown on the site plan is "John Candy Drive", a fitting salute to a hometown favourite who entertained so many and left a lasting impression on everyone he met.