By Blair Matthews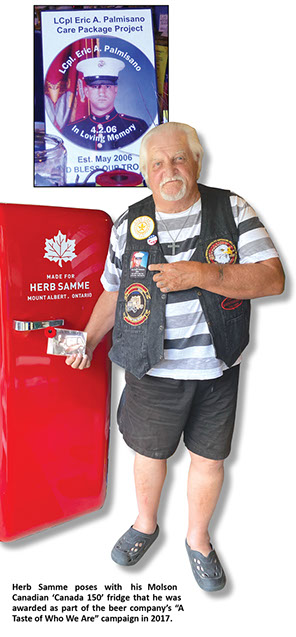 On a quiet crescent in Mount Albert, there's a townhouse that often sits with its garage door open. There might be a ballgame or a Leaf game playing on the TV. And there might be a beer, fresh out of an icy cold bright red fridge being enjoyed. But this isn't an ordinary fridge, and it doesn't belong to an ordinary guy.
Meet Herb Samme, a proud father with an extraordinary story that needs to be told.
Herb is a long-time EG resident, who uprooted and spent a number of years living south of the border in Florida and Wisconsin before returning here in the fall of 2014.
He married three times, divorced twice; his step-son, Eric, would eventually teach him life lessons and unintentionally lead him to places he would never have dreamed of visiting – even in his worst nightmares.
Father and son came from two very different worlds.
Herb loved NASCAR, beer, and discipline. He logged more hours as a truck driver than he cares to admit.
In his college days, Eric loved to party every chance he got. He had an amazing, sarcastic, sense of humour (he once aspired to be a stand-up comedian) but lacked motivation, had little drive, and was seemingly content to have a good time at the expense of those in his life.
His girlfriend, Claire, broke up with him, he lost his job, and he had no choice but to move home to Wisconsin with his mom, Bobbie, and Herb.
Now under Herb's roof, Eric was expected to get a job and pay his fair share, even though he much preferred lounging on the couch playing videogames in the basement. He spent the first while ignoring job opportunities that Herb arranged for him, citing lower pay than he was willing to work for. But really, he just wanted some time to find his place in the world.
And so, when 25-year-old Eric came home one day and declared that he was joining the U.S. Marines, Herb was skeptical at best. Then he was immediately concerned. "You're signing a death sentence," Herb remembers telling him. Undeterred, Eric admitted that he needed something to get his life back on track. Maybe joining the Marines would be the thing to help right the ship, he reasoned.
Eric's mother Bobbie knew why he picked that particular military path. "Eric enlisted in the Marine Corps because he wanted to be a member of the proud family of Marines," she says. "His grandfather, his uncle, and his cousin were all Marines. Eric wanted to be the 'best of the best'. That's why he chose the Marine Corps as opposed to any other branch."
Herb doubted it would actually come to fruition.
"You'll never make it through bootcamp," Herb recalls saying. "You won't listen to me, and you're going to have a drill instructor screaming at you and spitting in your face for 13 weeks. You're going to tell him to f**k off and that'll be the end of it."
Eric had never picked up a gun before, let alone carry one and be trained to kill using it. Herb was confident his son didn't stand a chance of making it through the grueling training program. "I told him 'if you graduate bootcamp, I'll come out and you can drop your pants on the parade deck and I'll kiss your ass.'"
Fast forward to San Diego, CA on June 10, 2005. Eric made it through as a platoon leader and an excellent marksman. Herb and Bobbie were beaming – and proud papa, true to his word, was prepared to get the Chapstick out.
"He looked me straight in the eye – which he had never done before – and said, 'you don't have to do that sir.'"
It was one of Herb's proudest 'dad' moments.
He was assigned to the 1st Transportation Support Battalion, 1st Marine Logistics Group, 1st Marine Expeditionary Force at Camp Pendleton, CA.
In the months that followed, Eric and his ex-girlfriend rekindled their romance; by Christmas they were engaged.
Shortly into the new year, Eric received word that he was being deployed to Iraq. His fiancé suggested they get married before he left for his tour, but instead Eric promised Claire her dream wedding upon his return from duty.
Two months into his Iraq mission, he was right in the thick of war. His job was to accompany the U.S. convoys – protecting the loads and keeping the drivers safe.
On April 2, 2006, Eric was the first truck in a convoy of Marine vehicles near Al Asad, west of Baghdad. As the truck approached a makeshift bridge, he was given orders to proceed across a stretch of water, against his judgement that the flash flood waters they were encountering were rising too fast. As Eric inched his way further into the water, the '7-ton' military truck he was driving started taking on water. The current was so strong that it forced the massive vehicle off the roadbed. It tipped over and Eric along with a Navy officer were washed away.
In total, 7 Marines died in the accident that day. One managed to cut himself free from his restraints and was pulled to safety.
Back in Wisconsin, two Marines showed up in the middle of the night at the door of Herb's house. He was away hauling a load for work; Bobbie, having peered out the window to see what every military parent or spouse dreads, refused to open the door. When the two officers returned with the local sheriff, Bobbie was told the news that her son was considered "duty status whereabouts unknown."
She and Herb were shattered.
Herb's first instinct was to drop everything, jump on a plane to Iraq and aid in the search for his son. He was told, in no uncertain terms, that he couldn't do that.
After 9 days of uncertainty and helplessness, two Marines returned to break the news: Eric's body had been recovered.
Dark days for the family and all those who knew Eric were ahead.
The biggest slap in the face, Herb says, was that two care packages he and Bobbie had sent over to Eric in Iraq before his untimely death came back 'undeliverable' without ever having been opened. Items from home that military personnel appreciate most could easily have been taken out and re-distributed to other Marines in Eric's platoon.
Out of a painful experience came something good: the L Cpl Eric A. Palmisano Care Package Project, spear-headed by Bobbie and Herb.
The project started off small... a few care packages here, a few more there. All of the items are donated. Since 2006 they have mailed out over 5,000 packages to soldiers and Marines in Iraq and Afghanistan.
And the work continues to this day, even with the cost of postage jumping from $8.50 per box in 2006 to $19.60 in 2020.
Finding a way to get to Iraq
After Eric's death, Herb and Bobbie became known as Gold Star parents, a title reserved for families of military members who have died in the line of duty. They attended many military funerals offering their support to other grieving families. They would also accompany troops to the airport where they would be part of a flag line to give them a proper send-off at their departure gate. It was at a small airport in Wisconsin that Herb learned that he didn't necessarily need to be a Marine or a member of the armed forces to serve his country in Iraq. The military was, in fact, looking for truck drivers they could contract to drive in convoys throughout Iraq.
"I'm doing it," Herb remembers thinking the moment he heard that he could apply. Bobbie wasn't nearly as enthusiastic about the idea, but if Herb made his mind up about something, there was no changing it, she says. "I am very proud of Herb for what he did, but I was also terrified because I did not want to lose him, too," Bobbie stresses.
Herb was determined that this is how he would get to honour his son's memory.
He filled out his application immediately.
He had to quit smoking after 40+ years of constant tobacco use. And he had to go through a mountain of paperwork and a battery of tests. After squeaking through the military health requirements, he was accepted as a contracted truck driver. He would wear military-issued protective gear, but carry no weapon.
When he finally arrived in Iraq in April 2010, assigned to the same base where Eric served, he quickly realized how much his son had downplayed the deplorable conditions.
"You knew exactly when you were coming into a town," Herb remembers, "because you could smell it." Garbage piles, raw sewage in the streets, and wild dogs and white mules roamed aimlessly.
And it wasn't uncommon for the temperature to hit a blistering 138 degrees Fahrenheit. "It was like someone holding a hairdryer to your face," Herb says. "I took in a lot because it was so different, but it was disgusting too."
From the moment he first got off the plane in Iraq, he was having second thoughts about all of it. "It scared me so bad. Eric told me how crazy it was, but the media only show you what they want you to see." No sooner had he been given his bedding that first night when suddenly sirens were blaring and incoming strikes were eminent. "I was terrified. Everytime I got into the truck I prayed," he says. "And I'd just hope that I'd get back alive."
He spent eight months in Iraq driving in convoys – sometimes carrying mail, other times hauling fuel or supplies – meeting people his son had known, and re-tracing some of Eric's steps.
The whole point was for a father to find some degree of closure for his son's death and try to move on.
But there was a hefty price to pay for it.
No amount of training, it turns out, can prepare a person for the horrors of war.
Car bombs, suicide bombers, machine gun fire, even angry Iraqi children at the side of the road flipping off U.S. troops as they drove past. These were the harsh realities of serving in Iraq.
Herb's convoy was, at times, shot at. "When we got attacked coming back from Al Asad (Airbase) that's the first time I had seen anybody die. It was an insurgent, so at first I cheered, but then I felt bad and I started to cry. That's still a human being." He tried to reason with himself that it was a case of 'kill or be killed'... which led him to wonder if Eric ever had to shoot anyone.
To this day, Herb is still unsure if Eric ever had to pull the trigger on an enemy.
Walking a mile in Eric's boots gave Herb a whole new appreciation and understanding for what his son had gone through. "I realized that he probably was facing that every single day. It made me respect him even more."
"I knew he was there with me; I could feel him. I felt closer to Eric in those 8 months than I did in the 8 years before he was a Marine. He never listened to me, we never really talked."
Herb is confident his son would approve of him going to Iraq to finish his tour. Along the way, he often saw subtle signs that Eric was watching over him.
The Marines, Herb says, were Eric's saving grace. His plan after retiring from active Marine duty was to move to San Diego, settle down with Claire, and become a drill instructor.
Hindsight being 20/20, would Herb make the same choice to pause his daily life and put himself in harm's way? He hesitates to collect his thoughts. "Ya," he finally answers, his voice quivering. "I'd do it again. I had to. It was something I needed to do."
Herb arrived home in Wisconsin after completing Eric's tour with so many unkempt emotions. He was physically safe (albeit 55 pounds lighter), but he suffered hearing damage, a heart attack in 2010, and still struggles to get restful sleep. He retired from truck driving soon after.
The idea had always been for he and Bobbie to move to Canada in their retirement years so he could be close to his family in York Region. Herb made the move to Canada as planned. His wife, however, chose to stay back in Wisconsin to care for her parents, and was determined to keep her son's memory alive by continuing the care package project that she had become deeply devoted to.
Currently the Sammes are living apart, still coping with a wound that never quite heals.
A Taste of Who We Are
In 2017 to coincide with Canada's 150th Anniversary, Molson Canadian announced a national campaign called A Taste of Who We Are, to reward and inspire the very best of Canadian character. The launch called for Canadians to nominate people with real life stories that demonstrated the best of Canadian character. Molson Canadian selected 150 of the best stories and rewarded each recipient with a personalized iconic Molson Canadian Red Beer Fridge.
"Today, we as Canadians represent a diversity that is being recognized globally like never before," said Chris Blackburn, Marketing Director, Molson Canadian. "It is our unique strength of character that makes us stand apart, and Molson Canadian wants to celebrate special individuals across this great country during this milestone year by giving them a memorable reward from Canada's beer."
Herb's niece, Michelle, unbeknownst to him, sent in a nomination for her uncle based on the character and dedication he showed related to his family and his determination to finish Eric's tour in Iraq.
The folks at Molson were overwhelmed by his story.
He was one of the 150 red fridge recipients – a testament to his character, determination, dedication, and love of his son, L Cpl Eric A. Palmisano.
There is much more to the story of L Cpl Eric Palmisano, and his parents Herb & Bobbie Samme. Their experiences could - and should - fill a book, which ultimately is the goal. At one time there was a book deal in the works, but it fell through and has been on the backburner ever since. Herb is still looking for a publisher so that he can hopefully recount his experiences before they're lost to the annals of time.
For more information about the LCpl Eric A. Palmisano Care Package Project, visit their website: palmisanocarepackageproject.org.