By Blair Matthews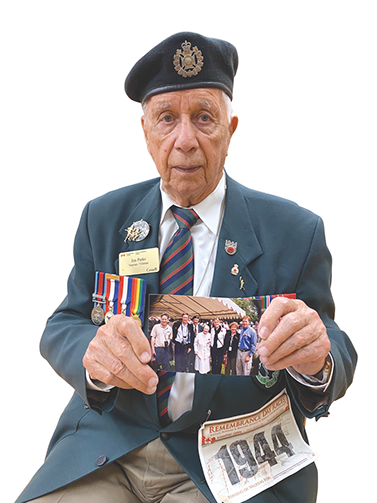 The Canadian Flag that hangs outside Jim Parks' Mount Albert residence has a deeper meaning than you might think. From the outside, the house is relatively plain — in fact, you might never notice it if you walk past.
The man who resides there with his wife and daughter is, however, a bit of a Canadian national treasure (he would probably disagree).
Meet 94-year-old World War II Veteran Jim Parks, a Mount Albert resident for 26 years.
Born in Winnipeg, Manitoba in the fall of 1924, Jim has seen more in his lifetime than most. The Great Depression; battles in countries half way around the world; and in the end, resolution and peace.
Along the way, he lost many colleagues and friends to the horrors of war. Though he doesn't say much about all the unspeakable things he's seen, just hearing him say he was on the front lines is enough to know he went through hell.
The Memory Project
In the days leading up to Remembrance Day each year, Jim is especially busy hosting talks and speaking engagements to local groups as part of The Memory Project, which preserves the stories of veterans of the Second World War and Korean War.
Often it's a cadet group or a school event that Jim speaks at. For a while he'd carry cue cards with him (akin to Ronald Regan) to aid in his presentation — but a friend gave him a hand to convert everything into a PowerPoint presentation.
It's an effective way to use technology as a teaching tool, he says.
When he walks into a room to speak he wheels a black suitcase close behind him. Props, he says, are also a great way to help him tell his story. If he starts to get emotional, he can click to the next photo and compose himself.
He opens the case and pulls out a ziplock with a small burlap sack inside. It's one of his most poignant historical pieces. "What you have here is dirt taken from Carpiquet battle field with Canadian blood of Canadian soldiers who died or were wounded," Jim says.
How it all began
When he was just 10-years-old, he joined the Army Cadets with military aspirations.
"At that time, everyone was still talking about World War I," he says of his eagerness to serve in the military. "The Depression was on... not much was happening."
The Parks family was no stranger to military service. Jim's father and two uncles served in World War I; five of his brothers served in World War II. His family never pressured or expected him to follow in their footsteps; they didn't discourage him from doing it either.
In May 1941, Jim was transferred to the Royal Winnipeg Rifles at Camp Debert in Nova Scotia. It would be only a few short years before he'd be in the middle of the world's most bitter battle ever fought.
According to Veterans Affairs Canada, on June 6, 1944, now known to history as D-Day, Operation Overlord, the long-awaited invasion of Northwest Europe, began with Allied landings on the coast of Normandy. The task was formidable for the Germans had turned the coastline into a continuous fortress with guns, pillboxes, wire, mines and beach obstacles — and on it depended the outcome of the war.
Approximately 14,000 Canadians landed in Normandy on D-Day. Inevitably the cost was considerable, but not nearly as high as had been feared. The Canadian assault force suffered 1,074 casualties, of which 359 were fatal.
Jim was part of the first wave that landed in Normandy that day. His boat was hit by enemy fire and he nearly drowned. "I swallowed a lot of water," he remembers vividly.
His troop had spent several years in England attending battle school and participating in training exercises in preparation for the water assault landing.
As he flips through photos showing his uniform, he remembers the boots he was issued. People in the army wanted to wear the boot style that the paratroopers had been given. "People in the paratroopers objected to the fact that we would have the same boots as them. Such a petty thing."
He recalls testing the validity of their equipment. "The base plate was 42 pounds, the rifle was 10, your own equipment is heavy to begin with... then you have bombs 10 pounds each and you're carrying a carton with three in it. So we tried jumping into the water with all that stuff; it didn't work. The way we landed (in Normandy on June 6) is a way we never ever practiced."
Even with so many soldiers losing their lives around him, he says there was never time to grieve. "You just carry on." Jim says he'd hear about friends getting killed, but then after a while he no longer recognized the names of the deceased. "The first group, you'd lose them all and then you'd get a lot of new people so it was people you didn't even know."
Aside from nearly drowning, Jim also had a major injury when he was in the path of a Shrapnel shell. "A shell landed right behind me and I never remembered a thing. It tore all my jacket in the back and all I had was some gravel and dirt stuck in my skin and two small pieces of Shrapnel in my butt. The next thing I know I'm sitting in the Regimental Aid Post with a cup of tea in my hand." He had been blown across a room and through a window.
World War II raged on for nearly 11 more months. When it was over, Jim says he remembers being in Emsden, Germany. "At that time, I was a Sgt. I had a pair of binoculars, I had a watch, and I had a compass. About 2 or 3 days before they sort of felt the enemy would be surrendering, we had to turn them all in. They figured we were going to 'flog' (steal/sell) them."
The victory was bittersweet. 'Happiness' is not a word Jim uses to describe the situation.
Later, he'd write about his time overseas as 'the year of lost souls.' It was a disruptive life, especially for those who saw combat.
By the time he got home, he was barely 20. "I was more mature in some ways, but less mature in others. It took a lot to adjust to civilian life again."
Jim found work as a firefighter with the Winnipeg Fire Department. It was shift work, which gave him an opportunity to take classes and further his education. He went on to work as a Draftsman and later worked in administrative and managerial positions with the Federal Government.
The Amazing Race Canada Comes Calling
If you're a fan of The Amazing Race (Canada), you might recognize Jim from an episode filmed in season two of the reality television series. For the first time in the show's history, teams competing in the race travelled outside of Canada.
"There's a whole generation of Canadians that don't understand what happened here," executive producer John Brunton told the Calgary Herald after the episode aired in 2014. "When we decided we were going to leave Canada, this was one of the first places to be considered. I thought this was a powerful place, an important place, for us to showcase. I think we're showing that having a peaceful, loving, tolerant country was worth fighting for."
Jim's role on the show was greeting competitors as they arrived at the Pit Stop on Juno Beach — a place rife with memories for him.
Many of the team members broke down when seeing Jim standing at the finish mat, donned in his full military uniform. He says he enjoyed the television experience, and in fact, he tries to get back to Normandy every 10 years or so.
It's both painful and rewarding to help educate today's generation about a time that most younger people might never fully comprehend. With 94 years in the rear-view mirror, it might give pause to a few regrets and wishing he'd done things differently?
"Never," Jim refutes. "It's the other way around. I'm glad I was there and I'm glad I didn't miss it."